Elevate Your Brand with the Best Digital Marketing Services in Chennai
Unleash Your Digital Potential with Ludo Digitech's Marketing Magic
As a leading digital marketing company in Chennai, we offer a comprehensive range of services under one roof, ensuring fantastic results for our clients. Regardless of the size of your business, we believe it's crucial to have a visible brand and a strong online presence that resonates with your target audience.
Our team of experts is constantly exploring innovative approaches to enhance our clients' digital marketing strategies. We understand the importance of connecting with your target audience at the right time and place, which is why we focus on effective online advertising and engagement.
Partner with our digital marketing and SEO(Search Engine Optimization) agency to unleash the full potential of your business. Let us guide you toward success in the digital world, where we combine creativity, innovation, and strategic thinking to propel your brand forward. 
Our goal is to help you make the most of the digital landscape and seize the opportunities it offers.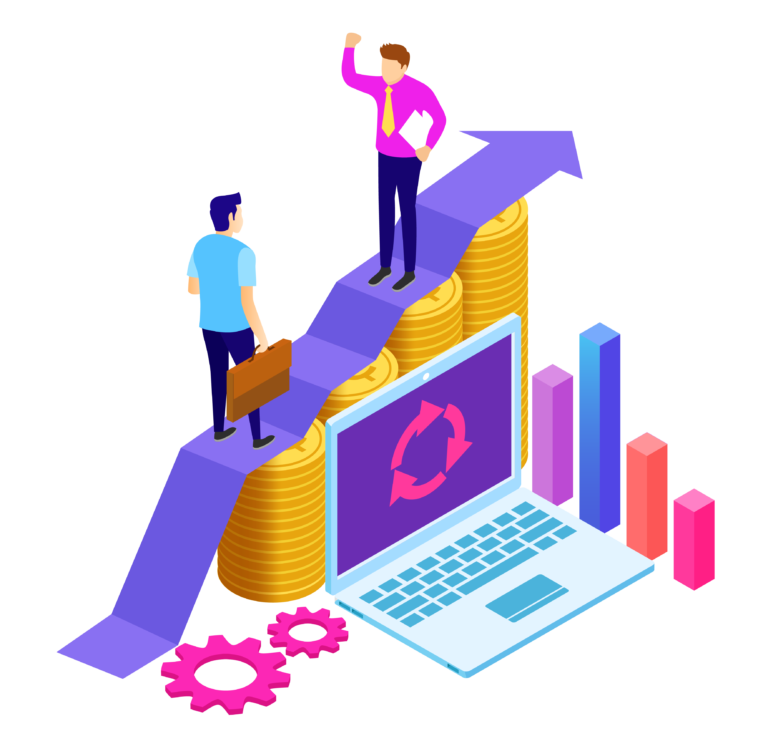 Digital marketing encompasses various tactics to promote your business online. Our dedicated team consistently comes up with creative ways to improve your digital marketing campaigns, maximizing your potential for business growth. We believe in leveraging the opportunities presented by digital marketing to ensure your brand's success.
With our SEO-optimized content and strategies, we ensure that your online presence is optimized for search engines, improving your visibility and driving organic traffic to your website. 
In today's competitive business landscape, digital marketing plays a crucial role in driving growth and success. As a leading digital marketing agency, Ludo Digitech is committed to helping businesses in Chennai achieve remarkable business growth. 
Achieve Remarkable Business Growth with Strategic Digital Marketing:
Key steps involved in implementing a strategic digital marketing plan to unlock your business's potential:
1. Digital Marketing Strategy:
Perform a comprehensive analysis of your company, target audience, and competitors.

Set clear objectives and define your digital marketing goals aligned with your overall business growth strategy.
2. Develop Engaging Website
Create a visually appealing, user-friendly website with a responsive design.

Optimize your website's structure, navigation, and content to improve user experience and search engine visibility.
3. Keyword Research and On-Page Optimization
Identify relevant keywords for your business using keyword research tools.

Optimize your website's meta tags, headings, and content with these targeted keywords to improve search engine rankings. 
4. Content Marketing and Creation
Develop high-quality, engaging content that resonates with your target audience.

Share informative blog posts, articles, videos, and infographics to establish your expertise and attract potential customers.
5. Social Media Marketing
Establish a compelling presence on relevant social media platforms for your business

Engage with your audience, share valuable content, and run targeted ad campaigns to increase brand awareness and drive traffic to your website.
6. Monitor, Analyze, and Optimize
Utilize analytics tools to track key metrics and evaluate the effectiveness of your digital marketing efforts.

Leverage data-driven insights to optimize your campaigns and achieve superior results.
Comprehensive Digital Marketing Solutions for Diverse Industries:
At Ludo Digitech, we take pride in our expertise in providing comprehensive digital marketing solutions across diverse industries. From real estate, healthcare,banking and financial,Education and hospitality to IT companies, FMCG, and both B2B and B2C sectors, we have successfully catered to a wide range of clients, including e-commerce sites. With our industry-specific knowledge and strategic approach, we help businesses thrive in the digital landscape.
Our team of digital marketing experts understands the unique challenges and requirements of different industries. By leveraging our in-depth industry knowledge, we develop customized strategies to maximize your online presence and achieve remarkable results.
Whether you are a real estate company looking to generate leads, a hospitality business aiming to enhance brand awareness, an IT company seeking to expand your reach, or an FMCG brand targeting both B2B and B2C markets, we have the experience and tools to drive your digital success.
Our proven track record and innovative strategies have helped numerous businesses across various industries achieve their goals. Our services encompass search engine optimization (SEO), social media optimization (SMO), social media marketing, content marketing, paid advertising, email marketing, and more. We tailor our approach to your specific industry and target audience, ensuring maximum impact and return on investment.
We are committed to staying at the forefront of industry trends and adapting our strategies to the ever-evolving digital landscape. Our goal is to deliver exceptional results that drive growth and success for businesses in every Industry.
Partnering with a leading digital marketing agency in Chennai, you can unlock remarkable ROI and achieve substantial client growth. Ludo Digitech, offers comprehensive digital marketing services tailored to your business needs. Maximize your online presence, reach your target audience, and witness exceptional growth in Chennai's competitive digital landscape.
Get in Touch
We're Available On WhatsApp